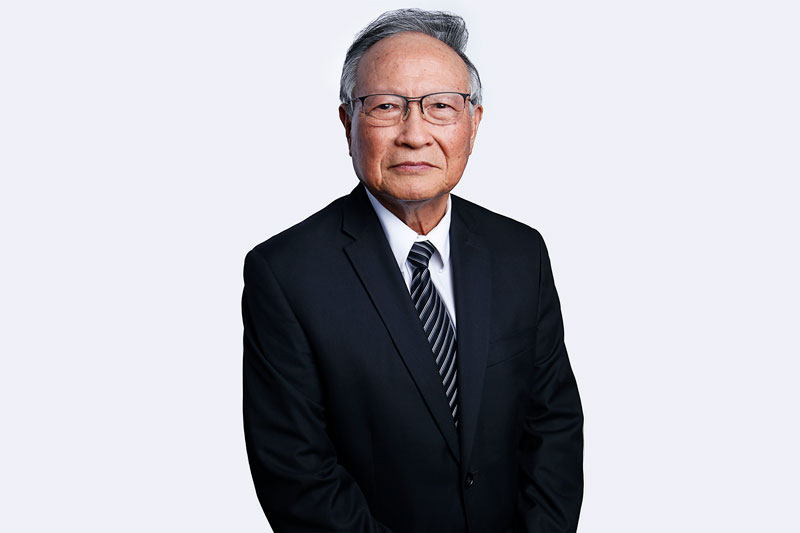 905-822-0471 x 223
Jordan Chou is the President and CEO of two independent companies; Canadian Power Utility Services Limited, a consulting engineering company, and CPUS Engineering Staffing Solutions Inc., a staffing agency, both leading suppliers of engineering services to the power industry in Canada.
Jordan is a senior professional engineering executive who has worked in the CANDU nuclear industry for more than 48 years. Mr. Chou is also a Designated Consulting Engineer with the Professional Engineers of Ontario (PEO) and has extensive experience in the development, design, maintenance, engineering, project management, and business development of CANDU nuclear power plant equipment and projects.
Jordan graduated from University of New South Wales in Australia with a Bachelor of Engineering in 1962 and a Master of Engineering in 1964. He started his nuclear career in 1969 when he joined AECL as a Section Head of Fuel Handling Hydraulic Control. In 1972, he joined Ontario Hydro as an Engineering Specialist (Instrumentation and Control). He pioneered the development of the first CANDU operator training simulator in Pickering. Jordan's career at Ontario Hydro further developed from there as he was appointed to several engineering and management roles with increasing responsibilities. He was elected as the President of the Society for Computer Simulation in the US from 1991 to 1993.
In 1991, Jordan made efforts to introduce the advantages of CANDU technology to the Chinese nuclear power delegation and made key contributions to the nuclear industry in China for the acquisition of two CANDU reactors. In 1991, under Jordan's leadership, his AI team was awarded the first major AI Research and Development project in Canada, receiving a project funding of $10 million from Industry Canada. This project was successfully realized in 1996.
Jordan retired from Ontario Hydro in December 1998 as the Director of Station Projects and Programs, Nuclear Engineering Divisions. He was responsible for Ontario Hydro's $950 million Improvement Program involving eight major projects and programs dedicated to the improvement of nuclear plant performance.
Following his retirement, he joined Canatom NPM Inc., a company owned by SNC-Lavalin and AECON Construction, as Vice President, Engineering, and Director of Engineering, Canadian Nuclear Utility Services (CNUS). Jordan later assumed the responsibility of President and CEO of CNUS and Vice President, Special Projects for Canatom NPM Inc. as well as acting in the capacity of consultant and technical advisor to numerous organizations in the power industry.
In 2004, Jordan founded the two currently operating companies, Canadian Power Utility Services Limited and CPUS Engineering Staffing Solutions Inc. CPUS Limited has successfully carried out more than 450 projects, such as the integrated safety review and global assessment for Bruce A 1&2, and the Darlington Refurbishment.
In 2011, Jordan was awarded as one of ten enterprising models of China and received the award in the Great Hall of People in Beijing. Jordan's biography was published in the Chinese edition of the book, China's 100 Outstanding Entrepreneurs' Struggle History.
Jordan has written or co-authored more than 60 technical papers in the fields of computer simulation, process control and instrumentation, fluid power control, power plant operator training simulators, nuclear and fossil power plant equipment and systems, plant maintenance, engineering and project management and business operations. He has received numerous awards during his professional career, including:
Product Champion of Ontario Hydro in 1985
Recipient of the Sir Adam Beck Award at Ontario Hydro for excellent work performance (most prestigious award at OPG) in 1991
Recipient of three New technology Awards at Ontario Hydro in 1990, 1991, and 1998
World Chinese Top 10 Enterprising Models Title in 2011 in China
Title of Chinese Star Top 100 awarded by World Chinese Venture Model Association and other international trade organizations in China in 2011
Jordan was awarded as a Fellow of the Canadian Academy of Engineering in 2014, Fellow of the Society for Computer Simulation in 1991, and Fellow of the Instrument Society of America in 1986 (only one was awarded by the ISA of the United States to an Ontarian in the past 30 years).